How It Works

Ever played the lottery in a syndicate before?
Countless people do. Friends pooling their lottery ticket money to increase their chances of hitting a jackpot and sharing the winnings makes a lot of sense. Because it's proven to work! In fact, according to Camelot...
1 in 4 jackpots is won by a syndicate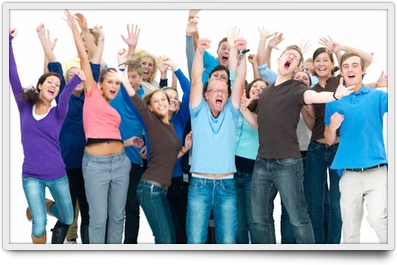 But what if you want to play in a syndicate yet there isn't one being run by your friends you can join?
Well, that's where lovemylotto.com comes in. Because we're a UK lottery syndicate management company running professional online syndicates that anyone can join from anywhere in the world — provided you're over 18 and your country permits online lottery playing.
In fact, since we launched in 2010, all kinds of people from over 90 nations have joined us. And what's more...
In the last 12 months, Over 95% of members have had a win!
You can join easily right now by simply subscribing to one of our syndicate types — Bronze, Silver, Gold and Platinum.
But Love my Lotto syndicates are nothing like the syndicates you may have subscribed to before — they're unique! They're actually lottery draw 'packages' comprising multiple entries in these FIVE big-money games: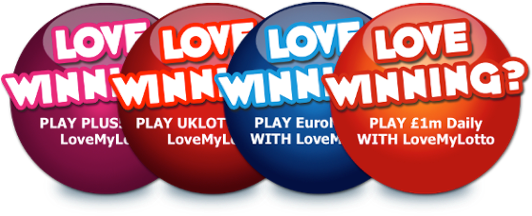 EuroMillions

– the record-breaking, twice-weekly transnational game with a generous 13 levels of variable-value prizes, including a jackpot capped at around

£150 MILLION!

Millionaire Raffle

– the UK-only, twice-weekly companion draw to EuroMillions with a single fixed prize of

£1 million, plus Mega-Friday on the last Friday of each month, when there are 5 £1 million prizes.

UK Lotto

– the UK National Lottery's biggest game, drawn twice a week, with 5 variable-prize levels (one fixed prize), including a

£multimillion jackpot, that can reach as much as £60 million pounds.

UK Lotto Raffle

– the twice-weekly companion draw to UK Lotto with a £1 million fixed prize, plus 20 fixed £20,000 prizes.

Daily Draw

– the draw-a-day game — exclusive to Love my Lotto — with 5 fixed-prize levels, including a

£1 million jackpot

.
You can see that LoveMyLotto syndicates offer great value for money. Subscribe to, say, a Silver for only £24 a month and you're sharing in 36 weekly draw entries, which means your syndicate is in with 477 chances of scooping a jackpot.
Or, even better value, subscribe to a Gold for just £36 a month so you share in 63 weekly draw entries and a colossal 490 chances of a jackpot win.
Looked at another way... go for Gold and every day on average you get more than 142 chances of any prize, including 15 chances of a jackpot of anywhere between £1 million and around £150 million (the EuroMillions cap) — all for LESS THAN A PENNY A CHANCE!
Playing The Lottery
Doesn't Get Any Easier Than This
Improving your chances of a big payout share isn't the only reason to join Love my Lotto; there's also the sheer simplicity and convenience of our expert professionally managed syndicate system.
You'll never have to lift a finger — well, apart from one on your mouse, that is. As soon as you apply to join...
We open your account

and place you in a syndicate with 39 other players — no need to find them, yourself

We send you emails

confirming details of your subscription and all your lines of lottery numbers

We give you access

to your LoveMyLotto website 'back office' with e-wallet, where you monitor winnings and manage your account
And since we automatically enter syndicates' numbers in every draw, for you there's...
NO MORE

forgetting to buy lottery tickets

NO MORE

last-minute panics to beat draw entry deadlines

NO MORE

trekking to the lottery shop and queuing at the ticket terminal when you get there
Then, after the draws, we email you the results... check your numbers... alert you when you've won... and immediately deposit winnings (in pounds sterling) in your e-wallet, from where you can draw down cash by cheque or PayPal.
Which all means for you...
NO MORE

mislaying or losing tickets

NO MORE

forgetting to check tickets — or mis-checking them

NO MORE

having to collect winnings back at the lottery shop. Or forgetting to collect winnings, even
Rest assured, when yor syndicate wins a cash prize, you get your share of the cash prize — no mistakes! And they're all tax-free lumps sums.
When there are so many good reasons to play these big- money lotteries the LoveMyLotto way, why not try the system out with a syndicate spot for a month or two? Join before 21:00 UK time and you're entered in today's draws.
You don't want to miss out on the next massive multimillion-pound jackpots, so go ahead and choose Bronze, Silver, Gold or Platinum.